Jessica Schurman

With Autism Alberta's Annual General Meeting coming up next month, we wanted to share Jessica's piece from last year, where she talks about why attending our AGM was a meaningful experience for her. We hope we'll see you at this year's meeting on August 26th in Red Deer!
I walked into Autism Alberta's Annual General Meeting feeling lower than low, discouraged; my bucket was empty. Three children, 17 loads of laundry, a van covered in Rice Krispies, and having only 24 hours to prepare for a mini-lake vacation will do that to you. Five hours is a great deal of time for anyone to dedicate and commit to a meeting, but wow, what a five hours it was. Everyone there had their own 17 loads of laundry and cereal covered minivan waiting for them, but they volunteered their time, showed up, and shared! I walked away from the AGM feeling completely inspired by the twenty people from across Alberta who were in attendance at the table and over the phone.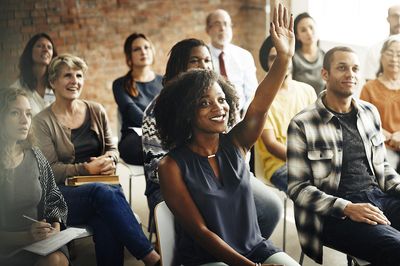 It was not five hours of budgets and reports – it was time spent learning and celebrating the other events and initiatives happening all over Alberta. For myself, on a personal level, it was a chance to spend time and connect with other parents and grandparents from across the province who are actively working to make the lives of all people touched by autism better. They are working tirelessly on policy, fundraising, and awareness. Most importantly (for me), I get the privilege of sitting in a room with parents who have children who are significantly older than my daughter and gaining knowledge and tips from them for when we get there. The advice, in my mind, is invaluable. My Matea is ten years shy of adulthood, but what a fast ten years I know it will be. I am forever thankful to this group of men and women who give of their time and their experience to help me and my daughter.
I would encourage any parent, with a loved one of any age, to attend a future AGM or call in if you ever have the opportunity. Walking away this afternoon, the statement that stuck with me the most was one made by both President Deborah Barrett & Vice President Lyndon Parakin: "we were and are just a group of parents, but if we have learned anything, it is that parents can move mountains."

Thank you for the inspiration, my autism community friends. We in Red Deer are ready for another amazing year of working together with Autism Society Alberta to move some mountains.

Autism Alberta's Annual General Meeting

Saturday, August 26, 2017
10:00 AM – 3:00 PM


Board Room
GH Dawe Centre
56 Holt St
Red Deer, Alberta

RSVP to info@autismalberta.ca
by 4:00 PM, Thursday, August 24, 2017
Child Care is available, but please let us know your needs by the RSVP deadline of 4:00 PM on August 24.